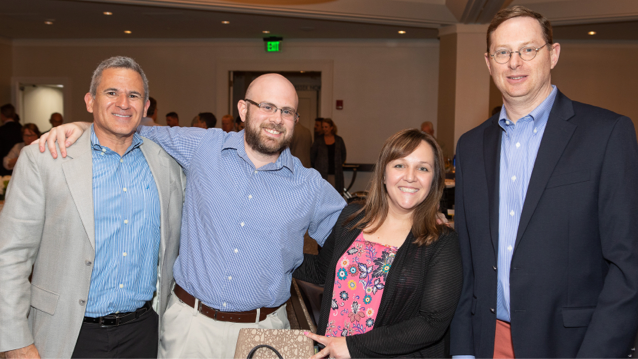 Benefits
Whether you are just starting your career or making a career change, you will want access to the types of benefits that meet your needs. Take some time to learn about what we offer our team members.
​​Hybrid Work Schedules + Paid Time Off
FHLBank Boston enables employees to split their work time between the office and remotely and to allow for more flexibility with work schedules. Employees must work in office 50% and remotely 50% of all working days over a given two-week period.

Employees start with 15 days of paid vacation each year, which is earned on an accrual basis. Additional vacation time is accrued based on length of service. We also offer our employees:
Two paid personal days off each year,
Up to two paid days off each year to volunteer,
11 paid holidays, and
10 days of sick time, which can be used for personal needs or family needs, up to a certain limit.
Employees are also provided paid leave benefits under the Massachusetts Paid Family and Medical Leave ("PFML") Act if employees are unable to work for certain reasons.
​​Health + Wellness Plans
The health of our employees is of paramount concern. We offer medical and dental plans, flexible spending accounts, a fitness subsidy, and an employee assistance program. We also host an annual wellness day for onsite flu vaccines and health screenings.
Medical Plan: Employees have a choice of four comprehensive HMO or PPO medical plans.
Dental Plan: We offer a comprehensive dental plan.
Vision Plan: We offer a comprehensive vision plan.
Health Savings Account + Flexible Spending Accounts: Employees can set aside pre-tax dollars to fund flexible spending accounts for health or dependent care.
Fitness Subsidy: We offer a subsidy for a local fitness club or annual reimbursements for a club of the employee's choice.
Employees can participate in a 401(K), with a match that increases at certain service anniversaries.
​​Professional Development + Other Benefits
We value professional development and offer to pay up to $7,500 of tuition fee expenses per calendar year for accredited job- or career-related courses or degree programs. Employees are also reimbursed up to $100 per class for required textbooks or course materials. We also offer $100 per month as part of our Student Loan Repayment Assistance Program to help employees pay off their student loans.
Other benefits include:
Group term life insurance,
Long-term disability insurance,
Commuter benefit program for public transit and/or parking ($150 Bank-paid monthly subsidy),
Back-up childcare,
Student Loan Repayment program,
Bicycle sharing program membership, and
An employee discount program for events, and various services including BJ's membership, Zipcar, wireless services, and more.