"With an extensive career in the credit union industry, I understand and appreciate the value of being a member of FHLBank Boston. We value our Participating Financial Institutions, and I'm honored to be a resource and build upon long-standing relationships, while fostering and developing new ones."
Jennifer Cowles
Vice President, MPF® Program Manager
​Jennifer Cowles
Vice President, MPF Program Manager
Jennifer leads the team that promotes secondary market product offerings under the Mortgage Partnership Finance® (MPF®) Program.
She has an extensive background in real estate loan origination, loan servicing, investor relations, secondary market, and risk management. With more than 30 years of experience across the financial services industry, Jennifer has held senior roles at Luso Federal Credit Union, Workers Credit Union, American Eagle Federal Credit Union, and Radian Guaranty.
At every organization, she has helped to improve operational efficiency and customer service excellence. Over the years, she has also shared her knowledge and expertise as a consultant to other financial and lending institutions.
Always willing to be involved and expand her connections, Jennifer has served as a volunteer on many mortgage banking councils, such as the CUNA Lending Council, the New England CUREN (Credit Union Real Estate Network) and CU: REALM.
Jennifer graduated with a Bachelor of Business Administration in finance from the University of Massachusetts, Isenberg School of Management.
She lives in Springfield, Massachusetts with her husband Craig. Jennifer enjoys spending time with her three adult children and her granddaughter. Her hobbies include golf, spending time on the shores of Cape Cod, volunteering, cooking, reading, and gardening.
Our team is here to help you achieve your funding goals and elevate your strategies.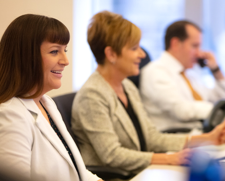 Looking for an MPF product?
"Mortgage Partnership Finance" and "MPF" " are registered trademarks of the Federal Home Loan Bank of Chicago.