"It's great that I can use my on-the-ground project management experience to help bring about high-quality, lasting improvements to the region's affordable housing stock."
Michael Pingpank
Senior Community Investment Manager
Michael Pingpank
Senior Community Investment Manager
Michael oversees the management and administration of our Jobs for New England program and works with members and partners to manage a portfolio of Affordable Housing Program initiatives in New Hampshire, Vermont, and central and western Massachusetts, including Berkshire, Franklin, Hampden, Hampshire, and Worcester counties. His housing portfolio also includes all projects outside of New England with funding from an FHLBank Boston member institution.
Having spent the majority of his career working with cities and towns throughout New England to help them undertake community development projects in low-income neighborhoods and distressed business districts, Michael joined FHLBank Boston in early 2019. Before joining us, Michael spent 12 years working for a Boston-based consulting firm that specializes in community development and planning services.
Earlier in his career, he worked for the Massachusetts Municipal Association and the New York State Association of Counties, specializing in municipal and regional data management and member outreach.
A graduate of Union College, Michael earned a master's in city planning from Boston University.
While most of his time is spent on land, Michael prefers to be on the water. He's a year-round sailing race official on Boston Harbor and competes in a weekly racing series with the Boston Sailing Center. In the winter, it's also not unusual to see Michael navigating New England's ski slopes with his family.
Leading professionals guide us to support New England's housing finance and community lending needs.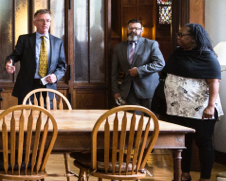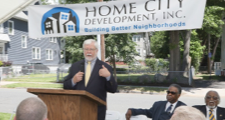 See how our members are using our housing and community investment programs to empower New England communities.