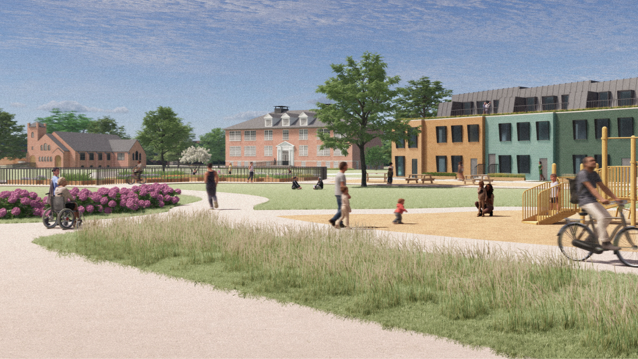 Proposal to Redevelop Campus of Former Girls' Reform School Wins 2021 Affordable Housing Development Competition Prize
A proposal for a multi-phased mixed-used project with 48 affordable rental units that aims to rehabilitate and reactivate an underutilized rural site of historic significance in Lancaster, Massachusetts, received the first-place prize in the 21st Annual Affordable Housing Development Competition.
More About the Annual Affordable Housing Development Competition
The competition drew seven entries from groups of graduate students interested in architecture, real estate, planning, finance, public health, and policy who teamed up with local affordable housing organizations.

The winning proposal, Lancaster Commons, was presented by a student team from Harvard University and MIT in collaboration with Metro West Collaborative Development, Davis Square Architects, and a finance mentor from Community Development Assistance Corporation.
Lancaster Commons aims to redevelop a 75-acre campus formerly occupied by Lancaster Industrial School for Girls, a site on the National Register for Historic Places. The proposal calls for the construction of 48 affordable rental townhouses built over the course of three phases and promotes intergenerational communities and supportive programming and amenities.
The winning team and developer shared the $10,000 first-place prize.
"The pandemic didn't discourage or deter the students who participated in this year's competition. They collaborated to present proposals that incorporated innovative ideas for affordable housing in rural, urban and suburban locations," said Kenneth Willis, senior vice president, director of housing and community investment at Federal Home Loan Bank of Boston (FHLBank Boston). "I applaud all of the participants, including the mentors, for their commitment, and I'm grateful that we were once again able to sponsor this competition."
The competition was sponsored by FHLBank Boston, Boston Society for Architecture, Kevin P. Martin & Associates, P.C., Kuehn Charitable Foundation, ICON Architecture Inc., and Citizens' Housing and Planning Association.
The competition was judged by Raymond Demers of Enterprise Community Partners; Rawn M. Duncan of Citizens Bank; David Eisen of Abacus Architects + Planners; Peter Freeman of Freeman Law Group LLC; and Aeron Hodges of Stantec Architecture.
Awards were also presented to:
Second place: Baycrest Commons, a proposal to create a 100-unit mixed-income apartment complex on an underutilized site in Portland, Maine. The development was proposed by students from Harvard University, MIT, Tufts University, and Wentworth Institute of Technology who worked with Avesta Housing, Elkus Manfredi, and a finance mentor from John Anton Consulting.
Third place: Reservoir Village, which proposes to create 58 affordable units for families and seniors at the site of an Episcopal church in Franklin, Massachusetts, as part of a community inspired by the themes of sanctuary, belonging, and nature. The development proposal was driven by students at Harvard University, University of Massachusetts – Boston, and Wentworth Institute of Technology in partnership with The Community Builders, St. John's Episcopal Church, Davis Square Architects, and a finance mentor from Eastern Bank.