"There is nothing more rewarding than providing our partners with the program funds to help generate much-needed housing, which transforms the lives of individuals and families throughout New England."
Kathleen Amonte
Senior Community Investment Manager
Kathleen Amonte
Senior ​Community Investment Manager
Kathleen works closely with members and community partners who are seeking assistance through our Affordable Housing Program in Connecticut, Rhode Island, and southeastern Massachusetts, including Barnstable, Bristol, Dukes, Nantucket, Norfolk, and Plymouth counties.
A graduate of Bryant University, Kathleen joined FHLBank Boston in 2007 as a bank operations specialist after having worked as an assistant bank manager at a community bank in Massachusetts. After three years, she assumed the role of compliance and operational risk analyst in our Enterprise Risk Management department.
Kathleen's longtime desire to have a more direct impact on addressing the housing needs of individuals and families led her to our Housing + Community Investment department in 2015. After diligently working as a Housing + Community Investment analyst to improve internal processes for our Affordable Housing and Equity Builder Programs, and assisting with compliance, analysis, and reporting, Kathleen was promoted to Community Investment Manager in 2018 and Senior Community Investment Manager in 2021.
Her skills and expertise in affordable housing have carried over to her volunteer activities, particularly while serving on the board of trustees of the Hingham Affordable Housing Trust.
When she's not in the office or touring an affordable housing development with a member, Kathleen enjoys spending time in the kitchen with her son testing the latest recipes from Food Network and EatingWell magazine.
Leading professionals guide us to support New England's housing finance and community lending needs.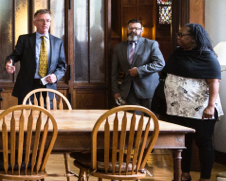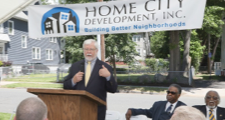 See how our members are using our housing and community investment programs to empower New England communities.