"I'm proud to lead such a talented team that is dedicated to infusing our communities with the stable affordable housing lower-income individuals and families need."
Kenneth Willis
Senior Vice President,
​Director of Housing + Community Investment
Kenneth Willis
Senior Vice President, Director of Housing + Community Investment
As Senior Vice President, Director of Housing + Community Investment, Ken oversees a team of nine professionals who administer all our housing and community investment programs and develops and maintains those programs, processes, compliance, and reporting.
He also serves as the key liaison with our Advisory Council and regulatory agencies as well as community partners and organizations focused on affordable housing.
With nearly three decades of experience, Ken is a well-respected leader in New England's affordable housing and community development industry and is a sought-after speaker at events and forums that focus on everything from community reinvestment requirements to small business lending.
Ken joined FHLBank Boston in 1998 as a housing and community investment representative, after having served as a CRA loan officer for Bank of Boston for four years.
His skills and desire to further expand and shape our programs pushed him to excel, and he was first promoted to assistant director and assistant vice president and eventually named first vice president and director in 2006. He was promoted to senior vice president in 2020.
In 2019, Ken was recognized with the Olivia Chase Beleau Award, an honor presented by Affordable Housing Education & Development Inc. (AHEAD) to an individual who has had a significant impact on affordable housing in New Hampshire and has been a role model for aspiring and upcoming professionals in the field.
Ken volunteered to serve as the first co-chair of our Inclusion Council, which has worked to educate and engage our employees about diversity and inclusion.
Ken can be found lifting weights or running on the treadmill before sunrise. He also enjoys cruising with his wife to the Caribbean and other sunny destinations and visiting museums, the zoo, and Disney World with his young grandson.
Leading professionals guide us to support New England's housing finance and community lending needs.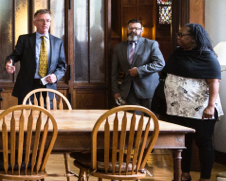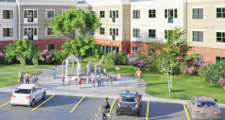 Explore how our members used our housing and community investment programs to aid in the recovery, resilience, and renewal of the communities they serve.