Housing Our Workforce Procedures + Requirements
As a member, now that you've decided to apply for Housing Our Workforce (HOW), mark your calendars with these important dates and review how the program works in detail.
Application Periods + Funding Rounds
You can apply during following period: January 21 – February 25, 2021. Approved Members will have full access to the funds allocated to the EBP funding round until they have met their maximum amount or until the pool runs out. Funds are always on a first-come, first-served basis. Please refer to the Program Features and Notice of Changes for additional information.
The 2021 EBP/HOW funding release schedule is as follows: Monday, March 15; Thursday, April 1; Thursday, April 15; and Monday, May 3.
Going through the process
In order to participate in HOW, you must complete three simple steps:
First, submit an application to participate in the program.

Second, once approved to participate, enroll homebuyers.

Third, request disbursement of the grant(s).
To apply and enroll homebuyers, go to the Community Lending Login. All other forms for the application and enrollment process can be found in Forms + Applications.
The standard review time for homebuyer enrollment applications is 15 business days assuming all acceptable documentation has been submitted.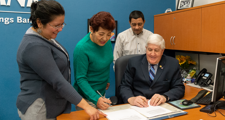 Our 2019 Annual Report highlighted how borrowers used a program grant to buy a home.
*The number of periods, the percentages, and dates can change based on FHLBank Boston's sole discretion, the current year's program need, and member/homebuyer demand.